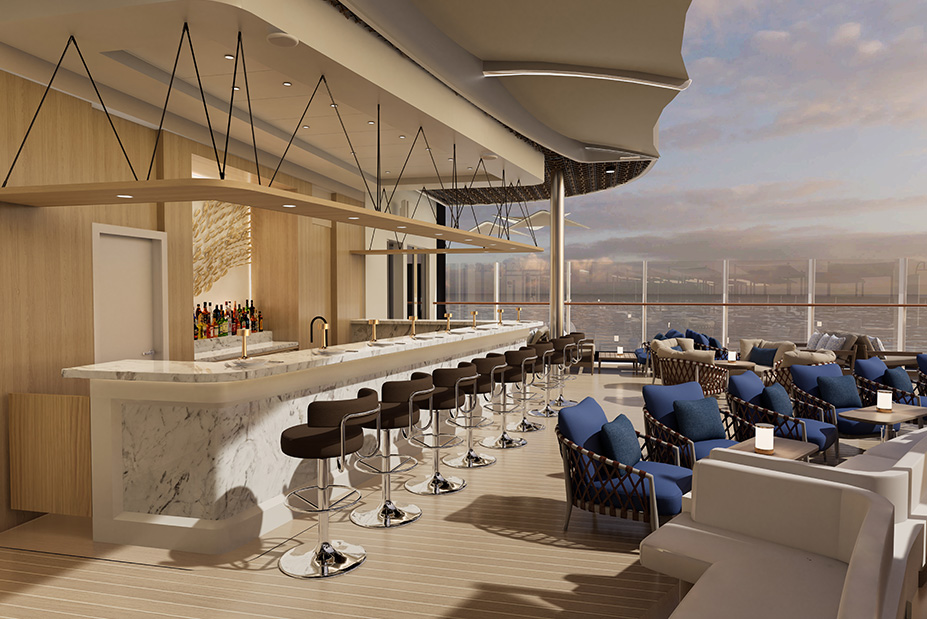 ---
Explora Journeys is the new luxury lifestyle travel brand launched by the MSC Group in Geneva, Switzerland with the ambition to redefine the luxury cruise category.
A uniquely different, new style of transformative ocean travel will inspire exploration in all its forms, all with a spirit and style of vibrant, cosmopolitan, and relaxed European luxury.
With the first of four luxury ships scheduled to set sail in May 2023, remarkable itineraries will blend renowned destinations with lesser-traveled ports for a journey that celebrates discovery.
Homes at Sea
The first ship EXPLORA I will be home to 461 ocean-front suites, penthouses, and residences.
With unrivaled space and privacy, and service that means everything is taken care of, you can relax into your comfortable homes at sea with your luggage delivered and a chilled bottle of champagne waiting as you undertake your Ocean Journey.
---
GET A NON-BINDING PRICE QUOTE
directly from our Luxury Travel Consultant at 360 Private Travel

choose your travel dates to receive rates for your next cruise vacation
Highlights
Soul. Stirring. You sail into the mystic, exploring the full breadth of the Inside Passage; an immersive experience that is sculpted by a filigree of fjords, rivers of jagged ice, and forested islands scattered like jigsaw pieces across cobalt bays. Mendenhall Glacier, Misty Fjord, Tracy Arm Fjord — ephemeral hallmarks that burn in your conscience as part of your life's story.
In a symphony of serendipitous light, Ketchikan appears on the horizon like a vision. Hike, bike, paddle, trek wildlife or board a seaplane to soar across the Tongass National Forest.
Breathe in the rarefied air of the snow-capped mountains of Juneau where the magnificent Mendenhall Glacier is cradled.
Deeper into winding narrows, sea otters and dolphins escort us into Sitka, where Alaska Native and Russian history still reign.
Rise early for the stunning journey into the Lynn Canal where the mountains are higher, the vistas more dramatic, and the glaciers impossibly gigantic.
Your reward is found in Skagway, where pioneers once rushed for gold in the mountain passes of Yukon and Klondike. Hop a narrow-gauge train or helicopter to find moonscapes above the alpine tree line.
Anticipation builds in Icy Strait Point but nothing can prepare you for plying both Misty Fjord and Tracy Arm Fjord. Each a dizzying display of energy: waterfalls plummet in a thunderous roar; granite cliffs thrust skyward more than 3,000 feet; icebergs towering overhead; and sea life lunges, breaches, and twirls at Sea level.
Boundless views focus your attention more deeply on the beauty as you venture to Victoria then cross the island-dotted bay that culminates our journey in the capital of creativity, Vancouver.