How Many Nights Should I Book on a First-Time Cruise?
For first-time cruisers, go on a 4 to 7 nights cruise to experience it all for yourselves. We are 100% certain you'll want to book your next cruise while still onboard your first cruise.
Did you know that longer cruises often offer better value compared to shorter cruises?
How Many Days at Sea is Ideal?
Always prefer a port-intensive itinerary with as many ports as possible, and as less sea days as possible. Just one sea day is perfectly fine, but preferably not more.
Are there any Overnights at Ports?
River cruises are known for being the perfect alternative for a city trip as many ships stay overnight in cities such as Paris, Amsterdam, London, and Prague. So you can go out, and see a musical while you return later at night.
Did you know that many ocean cruise itineraries come with overnight stays in Dubai, Portofino, Montreal, Lisbon, or Reykjavik as well? That's an added free city break!
Which Ports can you Recommend?
With over 2,000 frequently visited cruise ports around the globe, the choices are endless.
Visit the Vatican while you embark at the port of Civitavecchia in Rome, or experience the Tower of Pisa while you embark at the port of Livorno.
For famous scenic ports visit the ports of Rio de Janeiro, New York, Hong Kong, Sydney, and Vancouver.
How about Cabin Choice Considerations? Should I stay at Aft, Bow, Fore, High, or Low?
Lower decks are often lower-priced cabins, whereas higher decks are higher-priced.
Aft, Mid, and Fore? Aft is at the back of the ship (with panoramic views of where the ship has sailed), mid in the middle (central location, ideal for calmer sailings, least amount of movement), and fore at the front of the ship.
When it comes to cabin types, categories go from inside cabins (no windows), outside or oceanview cabins (without balcony, but with window), balcony or verandah cabins(with balcony), and suites.
Is There Enough To Do on a Cruise Ship?
You can do as little or as much as you want. On some ships, you won't have enough time to do it all.
Did you know that when we are talking about facilities onboard a cruise ship, we are talking about a range and variety that simply is not available at most land-based properties?
Where else in the Mediterranean or Caribbean can you ice skate, rock climb, visit a planetarium, go bowling, go to a 4D cinema, take a cookery class, learn a language, take in a Broadway-style show, go to an ice bar, dance til late, meet and hear from a best-selling author or actress, learn a musical instrument, watch a movie under the stars, send your kids off to a water park, and all under one roof, all included in the price.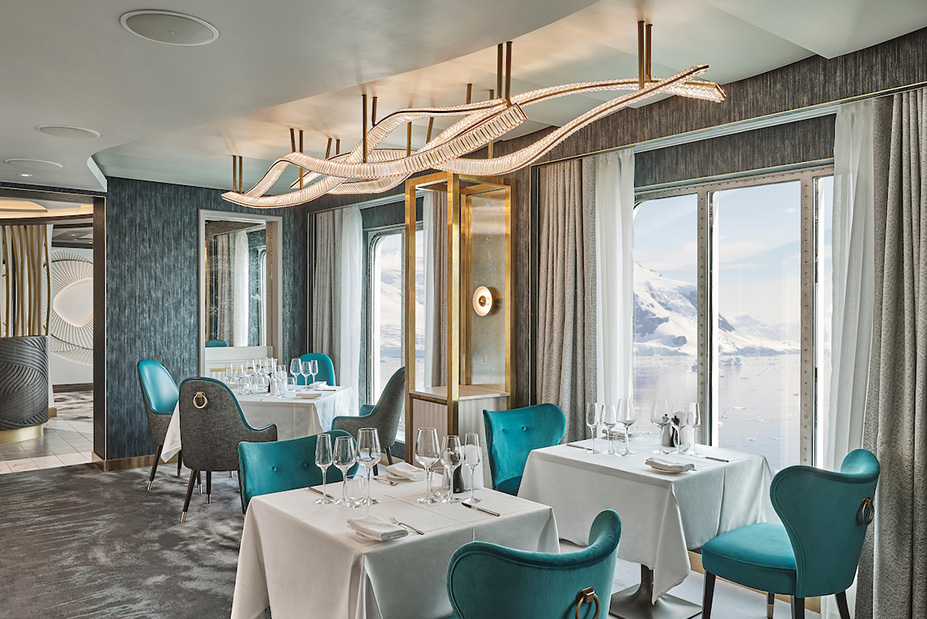 Cruiseteau, based in London and Amsterdam, curates luxury cruise experiences.
Including voyages with the world's most luxury cruise lines, such as Silversea, The Ritz-Carlton Yacht Collection, Seabourn, and Holland America Line.
At Cruiseteau, we are dedicated to ensuring that every aspect of your journey is taken care of, from the moment you book until the moment you return home.
Get ready to embark on a luxury cruise experience of a lifetime! At Cruiseteau, we are proud to partner with the world's most prestigious cruise lines to create customized, one-of-a-kind at-sea and port experiences for you.
So why wait? Let us help you plan your next adventure and rest assured that you are in the hands of a team that is committed to making your travel dreams a reality.
Through the Virtuoso Voyages program, you'll receive added benefits when you book through a Virtuoso travel advisor.
Perks include:
Dedicated onboard hosts
Private welcome reception
Exclusive shore excursions, from VIP tours to outings with a private car and driver
Shipboard credits and specialty dining options